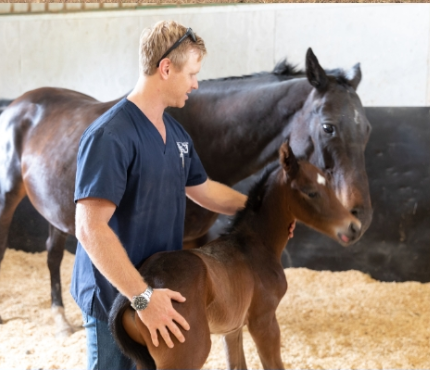 Dr Jaco Joubert
BVSc
Director Peak Vets, Veterinarian
Dr. Jaco grew up on the border of the Kruger National Park in South Africa. He moved to North Qld with his family in 2008. Jaco Graduated from James Cook University, Townsville in 2013 and started life as a mixed practice Veterinarian in Mackay. Having an affinity for equine Veterinary work he moved to Beaudesert and spent 3 years in a busy equine practice. Dr, Jaco and his wife Dr Jennifer bought Peak Crossing veterinary Services from Dr. Ian Wilbraham in 2018. Since then the practice has rebranded to Peak Vets and has grown to 6 vets and will soon be opening a practice in Kalbar too. Outside of work Jaco enjoys spending time with his wife Jenn, his little girl Alice and their dogs on their farm in Milora where they have Droughtmaster cattle and horses.
Dr Jenn Rey
BVSc
Veterinarian
Dr Michelle Hamilton
BVSc, BAppSc
Veterinarian
Michelle grew up in the Outback of Queensland mainly Tambo and Charleville. Her family home was full of a menagerie of animals and her mother a vet nurse. This is where the interest in being a vet came from. Michelle graduated from Veterinary Science at James Cook University in Townsville, 2011. She spent 7 years working in mixed practice including dairy farms in the Scenic Rim, before joining the Peak Vets team in 2018. Michelle recently completed a small animal dentistry workshop and she is constantly attending courses to further her continuing education, so that she can provide your pet with the most up to date medicine. Michelle enjoys the variety of true mixed practice, willing to attend to any animal in need. She will always treat your pet like one of her own and enjoys making meaningful connections with her patients and their owners. Michelle has several pets on the farm, including cattle, too many horses, Pippa and Wedgie her Border Collie working dogs, Harry the cat and George and Mildred the goldfish. In her spare time, she is either working on her old house, fencing, chasing cattle, or driving around Australia on 4wd camping adventures with the family. She also knows where to find every good bakery, café, winery and pub feed in the district.
Dr Dave Nolan
BVSc
Veterinarian
Dave grew up on farmland in country Victoria, where the desire to work as a veterinarian developed at a very young age. Dave made the move to Townsville in 2009 to study Veterinary Science at James Cook University. Following graduation in 2013 he moved to northern Tasmania to work in a mixed animal practice, with a particular focus on equine and cattle veterinary services. During his time in Tasmania a keen interest in equine dentistry began and developed through extensive post graduate training and clinical cases. This culminated in accepting and treating complex referral cases from around the state. In 2019 Dave and his young family made the move back to Queensland to join the team at Peak Vets. Dave continues to enjoy the variety of mixed animal practice, in particular meeting people around the area and helping their animals. Dave has a Short Haired Pointer X Spaniel dog called Mac and a small mob of Dorper sheep. On his days off he enjoys spending time with his family, motorbike riding, hiking, camping and anything else that is outdoors
Dr Amy Neale
BVSc
Veterinarian
Amy grew up in Palm Beach on the Gold Coast and after finishing school moved to Far North Queensland to study at James Cook University. After graduating Veterinary Science in 2018 she moved to the small country town of Collie in Western Australia where she started out in a busy mixed practice. This is where Amy fell in love with Rural mixed practice and learned to appreciate the true variety it has to offer. Amy particularly enjoys small animal soft tissue surgeries as well as getting out in a paddock for a challenging calving or horse stitch up. Amy has an Italian greyhound "Donny", an x-racing greyhound "Milo", a Labrador x Kelpie "Bilby" and a cat "Buttson". In the Winter months Amy takes part in Dry Land Mushing with Bilby in the Sled Dog Racing Queensland Club. A sport that will make you truly appreciate the athletic abilities of our animals! when the weather is warm you'll find her at the beach or out hiking or camping. Whether it's a guinea pig, cat, dog, horse or cow, Amy is passionate and excited about providing care to all the colourful creatures the region has to offer.
Dr Cathy Faye
BVSc, MANZCVS (ECC)
Veterinarian
Cathy graduated from Liverpool last century, although she is not quite as old as the Beatles!! She worked in mixed practice in Devon, Cornwall and North Wales before moving to Gympie with her Australian husband in 2005. Five years ago, she relocated to Brisbane and has pursued a career in small animal practice and emergency medicine. She joined Peak Vets in January 2021 and is loving the camaraderie and mixture of work in the clinic. This year she took and passed exams in emergency and critical care medicine. When not at work, she loves mountain-biking, and is learning to crash less frequently. She also dabbles in triathlon when she has time!! Her pets include a very cuddly Cavalier King Charles Spaniel called Tom (who just loves giving cuddles), an elderly collie (Zennor) who keeps Tom in line and two failed RAAF Malinois (Rockit and Nicky) who love joining her for her gym workouts!!
Sharon Wells
DipAppSc, Cert IV in Veterinary Nursing
Practice Manager Peak Crossing
Sharon has been with the Peak Vets team since 2013, previous to this she worked for the Royal Australian Air Force Military Working dogs for 9 years, training the working dogs and also working in the Breeding and Development section. Sharon has completed her Certificate IV in Veterinary Nursing and also has a Diploma of Applied Science in Animal Production. Sharon grew up in the surrounding area and now lives locally with her husband and two children. She has two dogs, Booster a Bull Arab X and Gemma a crazy Staffordshire bull terrier, and also a pet Galah. In her spare time she enjoys camping, watching movies and bike riding with her family. Sharon has always had a passion for animals and loves working as a Veterinary Nurse because each day is different and brings its own challenges with many rewards. She particularly likes working for a country veterinary clinic where she can get to know clients and their pets on an individual level. Her areas of interest include canine reproduction and small animal dentistry.
Alex List
Cert IV in Veterinary Nursing
Practice Manager Kalbar
Mellisa Forrest
Cert IV in Veterinary Nursing
Senior Veterinary Nurse
Melissa joined us in 2019. She has over ten years' experience as a vet nurse at a large mixed practice. Her areas of interest are Nutrition, Surgery and Medical nursing. She is also an accomplished dog and cat groomer. Originally from rural WA Melissa previously worked as a Farm Services and Procurement Officer for a leading dairy company in WA, VIC, SA and NSW. Mel spends her weekends (when not working) competing on her Welsh D, Ruben in official dressage and share her house with 4 dogs and 2 cats, and her partner.
Shannon Whighton
Cert IV in Veterinary Nursing
Veterinary Nurse
Emma Godfrey
Cert IV in Veterinary Nursing
Veterinary Nurse
Abby Holden
Veterinary Technician Student
Trainee Veterinary Nurse